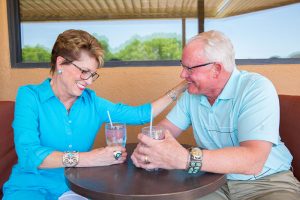 Do you suffer from intense tooth pain? Is your tooth very sensitive to hot and cold temperatures, foods, and drinks? Are the surrounding gums swollen and tender? Is your tooth darkened or discolored?
If you experience these symptoms, you may benefit from root canal therapy. This is a treatment that our dentists may recommend if the tooth nerve and pulp have become diseased or damaged. During root canal treatment, we remove the infected and injured tissues, and then fill the tooth to ensure it is healthy and strong once again.
In addition to relieving tooth pain and sensitivity, root canal treatment can help to prevent the infection from spreading to other teeth and avoid the need for tooth extraction. When needed, a root canal can be a great option for keeping you healthy, preventing further problems, providing a long-lasting solution, and helping you maintain optimal oral health.
If you suffer from the symptoms of tooth infection or injury, or if you would like to learn more about getting a root canal in Sedona, Arizona, please feel free to contact our office today to schedule your next appointment with Dr. Babcock or Dr. Williams. We are eager to hear from you soon!