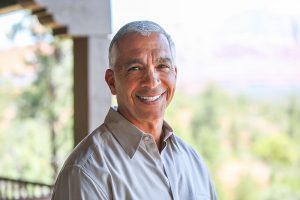 Would you like to enhance the appearance of your smile? Do you have dental flaws such as cracked, misshapen, worn-down, chipped, darkened, or gapped teeth that you would like to improve? Would you like to experience the self-confidence boost that comes with a stunningly beautiful smile?
Dr. Babcock and Dr. Williams are pleased to offer dental veneers to give your smile a makeover. Veneers can help you to effectively and quickly achieve a beautiful, bright smile. Typically created from tooth-colored porcelain or resin, dental veneers are bonded to the front of your teeth to improve your smile's appearance. Our dentists will carefully match the shade of the veneers to your natural tooth color for a natural-looking result; we can alternatively use a lighter shade of porcelain or resin if you are interested in brightening your smile.
At Sedona Dental Arts, we are committed to helping you stay healthy, preventing dental problems, offering long-lasting solutions, and assisting you in reaching optimal oral health. Custom-made dental veneers are one of the services we offer to help you maintain a healthy, beautiful smile.
We invite you to contact our team today to learn more about dental veneers in Sedona, Arizona, and to schedule a consultation with Dr. Babcock and Dr. Williams. We look forward to meeting you!